SOCIAL MEDIA STRATEGY
& IMPLEMENTATION
Australian Himalayan Foundation (AHF) is a non-governmental organisation that provides aid in the areas of education, health and the environment in the Himalayas. It's a lean organisation, with just a few staff in Australia, and staff on the ground in the Himalayas.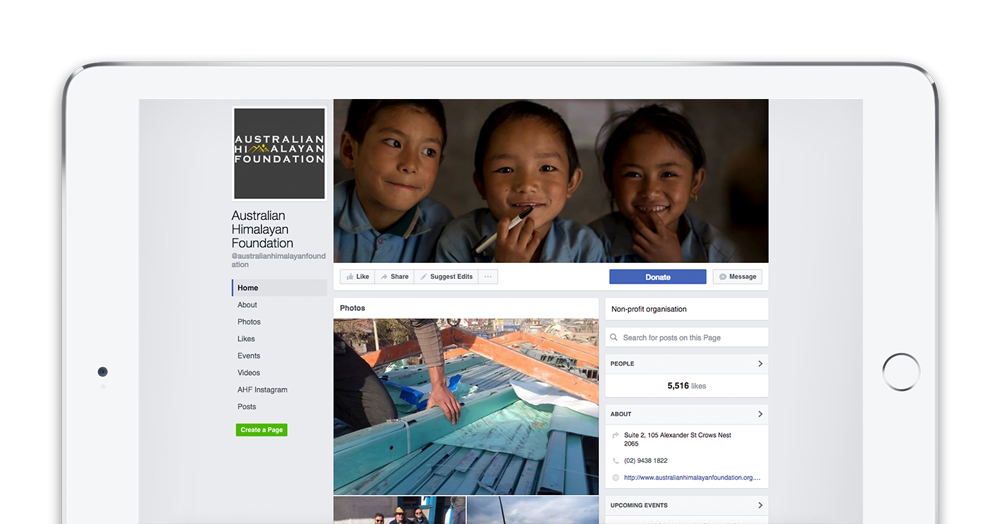 AHF rely on partnerships with organisations such as Kathmandu, as well as their loyal group of volunteers for marketing and fundraising. With such limited resources, AHF didn't have much of a presence on social media (unlike their competitors), and so were not seeing real results from their efforts.
Within the NGO landscape, it had been a challenge for AHF to gain new supporters, as their focus is for a cause outside of Australia. Also, charity donation trends have shifted in recent years from direct donation to charities, to fundraising for a challenge (for example, CANTOO).
Our task was to create a social media strategy that could increase traffic to the website for donations, improve brand awareness and increase brand loyalty on social through followers and engagement.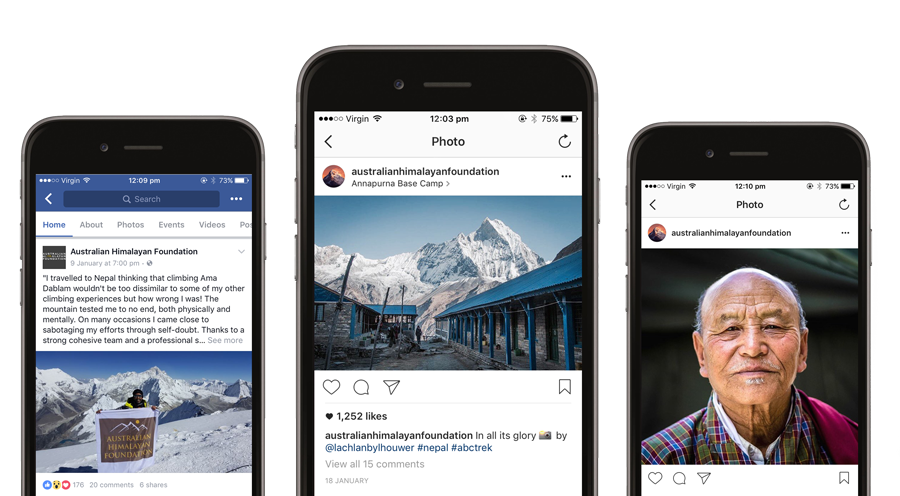 SOLUTION
We produced an social media strategy for AHF based on our research and a few key insights:
AHF is one of the only non-government organisations in the Himalayas with staff on the ground who can react immediately to emergencies. They also have staff in the most remote areas of the Himalayas.

Regular social media users over the age of 18 note that they find out about new charity initiatives through social media more than any other channel.
Most people who donate to AHF have been to Nepal, which helped us target specific audiences on Facebook.
We then set objectives, created a tone of voice and persona, outlined processes and created campaign ideas for twelve months. To lighten the load, we also undertook community management. The strategy covered Facebook and Instagram, with a plan to gradually expand to more social platforms.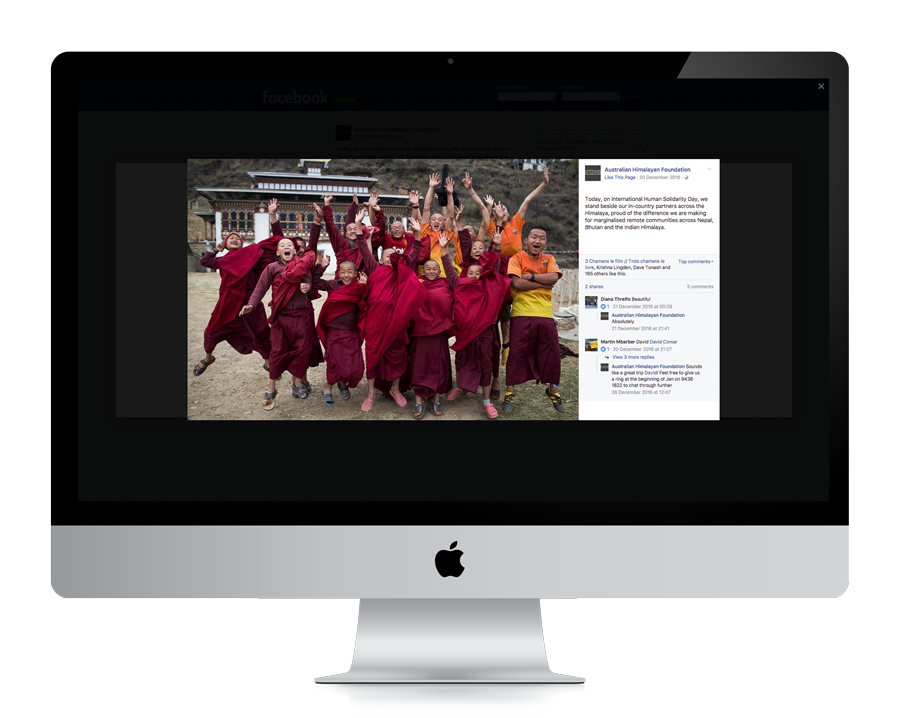 RESULTS
Since we began working on AHF's social media marketing, although we've work with only limited budgets, we've seen great results all around, and a very receptive community.
On Facebook, followers have increased from 2,864 to 4, 791 (an increase of 67%) and engagement has increased by 323% and reach per month has increased 163%.
For Christmas 2016, a Facebook campaign in which we asked the community to donate the price of a book led to a total of 2,339 clicks to the website with a budget of just $320.
Although we've used Instagram to show AHF's collection of stunning photographs, results there have been promising as well. Not only have followers increased by over 1,352% and engagement increased by 1,536%, it's also become a key area for new enquiries for volunteering through direct messaging.
Also promising is that now, 27% of all traffic to the website now comes from social media, compared to less than 10%.
As a local non-government organisation, the [Haimat] team has taken great pleasure in working with AHF. We see such potential in the brand and look forward to presenting more great results for them! This has also inspired our team to great a yearly fundraiser for the organisation, which is know a key milestone date in the [Haimat] calendar.

0
percent increase in followers

0
percent increase in engagement