WEBSITE DESIGN,
DEVELOPMENT & SEO STRATEGY
Based on the Northern Beaches of Sydney, Stand Up Paddle Gear Australia provides SUP boards, gear and lessons. The clients had purchased the existing SUP Gear e-commerce store in 2011, then opened a bricks and mortar to keep up with local competition. Because the online store was running successfully, the owners focused on the bricks and mortar offering. At the same time their competitors turned their attention to the online market, and more e-commerce stores for SUPPing emerged. Although the online store was turning a profit for a while, five years on, there was a steady decline in both traffic and sales online.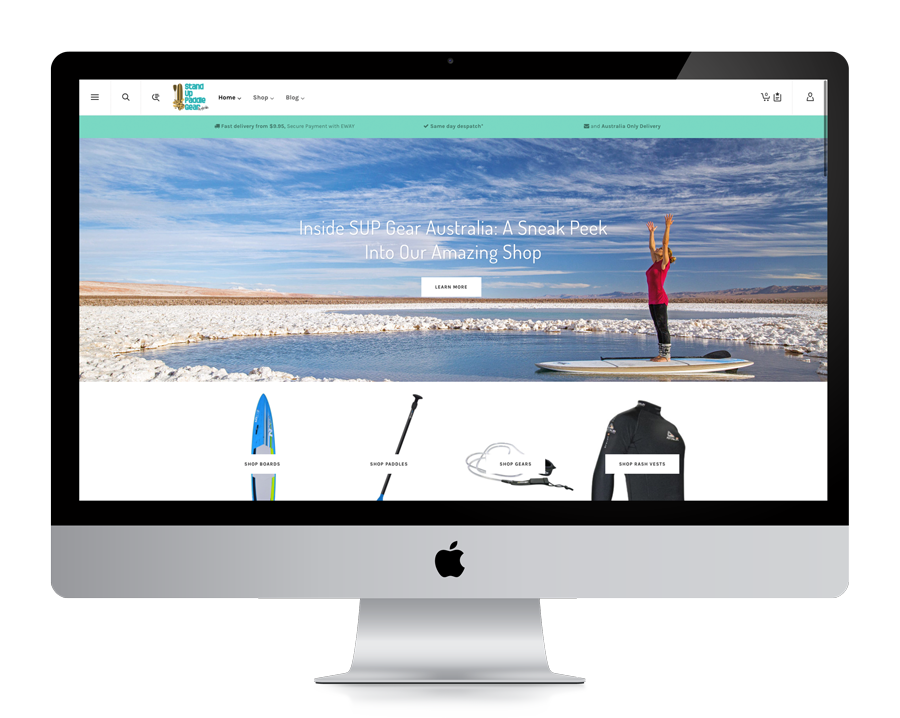 On top of this increase in competition, the SUP Gear Australia website had been penalised by Google several times, and the penalties hadn't been rectified. These penalties led to almost zero visibility via search. Then, the site got hacked because of a lack of security and couldn't be saved.
So, we had a couple of challenges — we needed to build a new e-commerce store from scratch (including creating copy and uploading images for 500 products) plus we needed an SEO strategy to get SUP Gear Australia back in Google's good books.
On top of bringing the online sales back up, the site also needed to work together with their in-store POS system to manage previous inventory problems, and be easy enough for staff to update products in the back-end.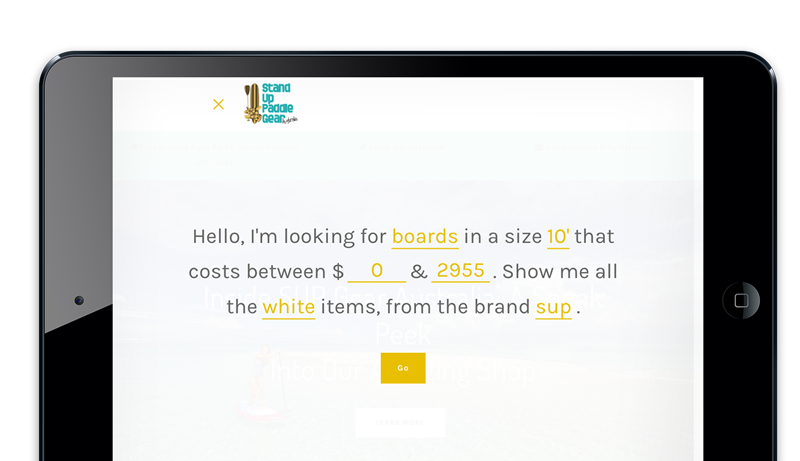 Working with our Digital Strategist and SEO Strategist, we created a new site based on awesome, clear imagery, easy navigation and keyword-rich content to get the site humming with traffic and sales again.
Attention to detail was critical here as there were hundreds of products and a lot of requirements for the site. Site development also included configuring the video player, photo gallery, blog and forms, as well as synchronising the site with the in-store POS system, Salesforce and Mailchimp.
Essential to this was plenty of SEO-friendly content, so all copy on the website was optimised. We also wrote blog posts, SEO titles and descriptions for nearly 400 products. We also worked closely with Google to remove the previous penalties.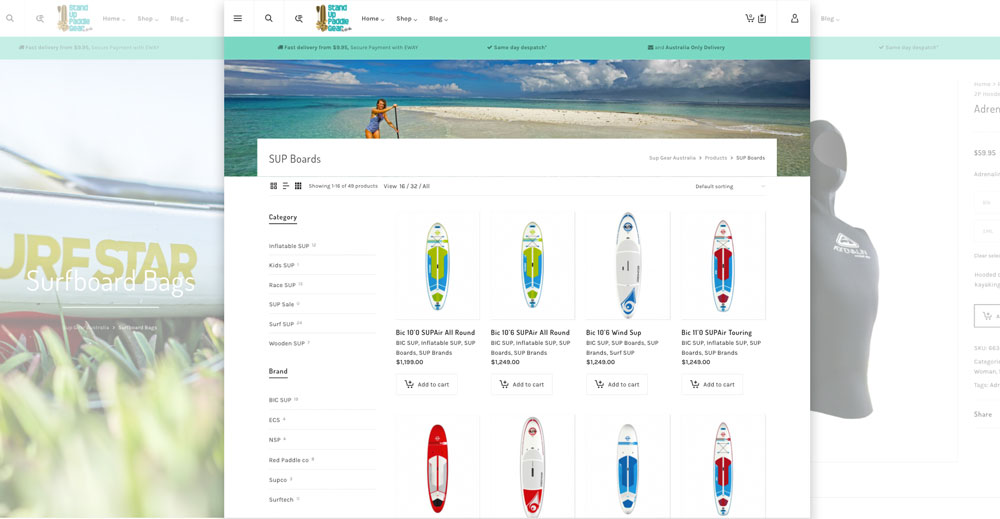 RESULTS
In the first 6 months after launching the new site and SEO strategy, SUP Gear Australia has increased 200% worth of sales through the online store alone. This is an amazing result, especially considering that the previous two years' revenue via the online store declined rapidly.
Site traffic increased from 888 in the six months prior to launching the new site, which increased to 11,392 over the 6 months after launch. Time on site almost doubled from 1.39 minutes to 2.43 minutes.
After seeing such a great return in the first six months, SUP Gear decided to invest in ongoing SEO support with [Haimat] to continue with these impressive results.
0
percent increase in traffic